BILL HILLMAN'S
WEIRD AND WONDERFUL PHOTOS
WAR IMAGES
www.hillmanweb.com/archive/rare/20.html

What is thought to be the oldest known war photograph:
New Hampshire volunteers depart for Mexican War 1846

Union prisoners receive rations
at Fort Sumter in 1864.
.
June 1915, Gallipoli:
a Turkish sniper/sharpshooter,
dressed as a tree,
is captured by two Anzacs.

Sept 1933 - Adolf Hitler breaks ground on his ambitious plans
to link all major German cities with highways.
This ceremony kicked off construction of the
Frankfurt-am-Maine - Darmstadt/Mannheim highway.
.
| | |
| --- | --- |
| | |
| The RMS Olympic, the Titanic's sister ship, in wartime camouflage in 1915. | Mugshot of Tokyo Rose, 1946. |
.
Wieluñ just after German Luftwaffe bombing September 1, 1939.
Not only did this bombing provide a spark for World War II, but
it is generally believed to be the first terrorist bombing in history.

A rescue boat comes alongside
the crippled USS West Virginia
shortly after the Japanese attack on Pearl Harbor in 1941.
.
Commandant Amon Goeth, infamous from "Schindler's List"
on the balcony of his house overlooking
Plaszow labor camp, Poland. 1943-44.

Soviet soldiers stand dumfounded at
a large pile of human ashes
found at the Majdanek concentration camp in 1944.
.
The fuel tanks of the B-24H Liberator "Little Warrior"
explode over Germany after hit by anti-aircraft fire 1944

1945 - German POWs weep and sit in disgust as they
watch footage shot at a German concentration camp.
.
| | |
| --- | --- |
| | |
| A burial at sea on board the USS Lexington in 1944. | War is Hell |
.
Soldiers comfort each other during
the Korean war in the early 1950s.

Washington-Hoover Airport demolished in 1941.
This is where the Pentagon stands today.
.
.
309th AMARG second largest air force in the world.
The USAF Boneyard storage in Tucson, Arizona.

Elvis in the US Army



.
Russian aircraft graveyard base
100 km from Vladivostok full of unused military equipment.

Massive storage of unused Soviet tanks near Kabul
left from the 1979-1989 occupation of Afghanistan.
.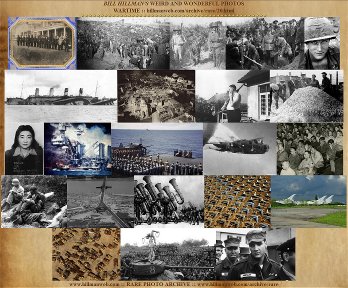 Click for full-screen collage
www.hillmanweb.com/archive/rare/20.html
WEIRD CONTENTS
www.hillmanweb.com/archive/rare
BACK TO HILLMANWEB.COM