www.hillmanweb.com/sue-on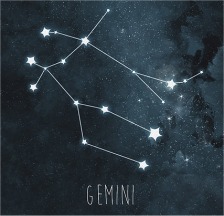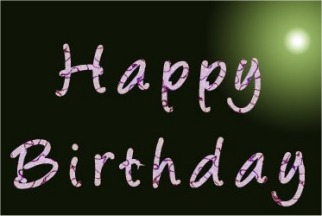 .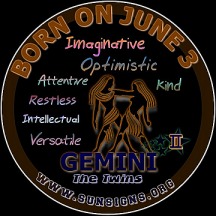 SUE-ON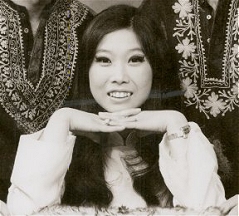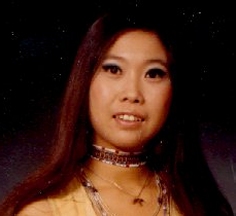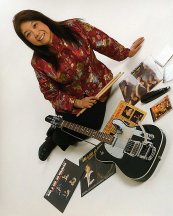 My Princess
..


HAPPY BIRTHDAY SUE-ON
https://www.hillmanweb.com/princess.html
Looking back over the 60 years I've observed and loved this remarkable lady
. . . my first and only love . . .
A flood of memories, feelings and observations come to mind.
---
Lovely Exotic Beauty Inside and Out
Loving Mother and Mate
Proud of Chinese and Canadian Heritage
Loyal, Caring and Compassionate
Soft and Strong
Bold, Wise and Intelligent
Passion for Plants and Garden
Passion for Kitchen and Cuisine
Passion for Life
Singer, Drums and Piano
Stage, TV, Tours and Recording
Adventurous and World Traveller
Writer and Photographer
Teacher and Leader
Loyal Daughter, Sister, Auntie and Friend
Sharing, Generous and Unselfish
Complex and Temper When Insulted
Life Skills and Business Smarts
Karate and Tai Chi Devotee
Empathy and Forgiving
Creative and Artistic
Lifelong Mate and Companion
SUE-ON'S STORY
https://www.hillmanweb.com/mystory
SUE-ON
LONG-HELD THOUGHTS THAT I FEEL MUST BE SHARED
WITH THE FIRST AND ONLY LOVE OF MY LIFE ON HER BIRTHDAY
AS WE APPROACH OUR 60th YEAR TOGETHER:

* The minute I heard my first love story I started looking for you, not knowing how blind that was. Lovers don't finally meet somewhere. They're in each other all along.
* The secret of a happy marriage is finding the right person. You know they're right if you love to be with them all the time.
* A successful marriage requires falling in love many times, always with the same person.
* I'm much more me when I'm with you.
* A marriage anniversary is the celebration of love, trust, partnership, tolerance and tenacity. The order varies for any given year.
* In you, I've found the love of my life and my closest, truest friend.
* You are the finest, loveliest, tenderest, and most beautiful person I have ever known and even that is an understatement.
* The couples that are 'meant to be' are the ones who go through everything that is meant to tear them apart and come out even stronger than they were before.
* As we grow older together. . . As we continue to change with age . . . There is one thing that will never change … I will always keep falling in love with you.
* Meeting you was fate, becoming your friend was a choice, but falling in love with you I had no control over.

LOVE. . .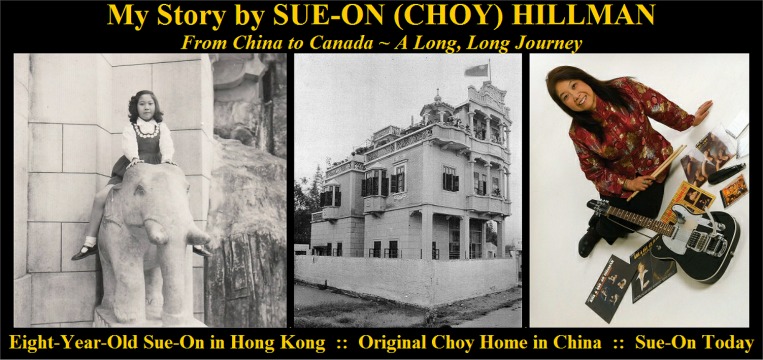 Click for larger image
Click for larger image
www.hillmanweb.com/mystory


BILL AND SUE-ON HILLMAN
A 57-YEAR MUSICAL ODYSSEY
www.hillmanweb.com/book
.
From the Hillman Photo Archive:
ON THE ROAD WITH BILL and SUE-ON HILLMAN
SUE-ON: A LIFETIME IN PHOTOS
www.hillmanweb.com/cards/sueon.html
.
Click for full size collages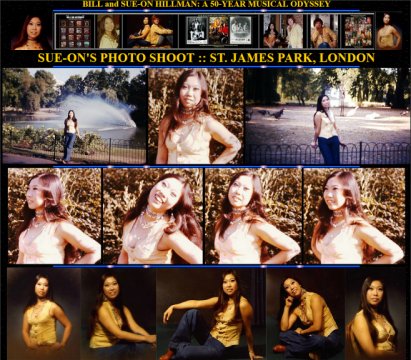 .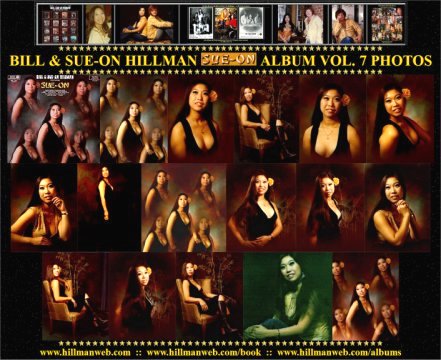 .
.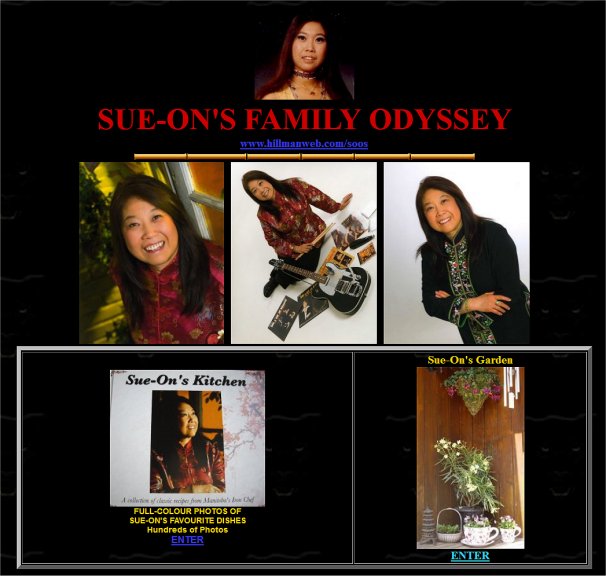 SUE-ON'S WEBSITE
SUE-ON'S KITCHEN
SUE-ON'S GARDEN
SUE-ON'S MUSIC
HILLMAN ECLECTIC STUDIO

.

.

ON THE ROAD WITH BILL and SUE-ON HILLMAN
A 60-Year Musical Journey
From the Roots and Influences Section of the Odyssey


TWO WORLDS : Born a World Apart
Rural Manitoba ~ S. China and Hong Kong


Bill and Sue-On Hillman Wedding Day
August 29, 1966
www.hillmanweb.com/cards

From your "not so secret admirer". . .
Best Friend. . .
Lover. . .
and
Husband . . .
For +57 Years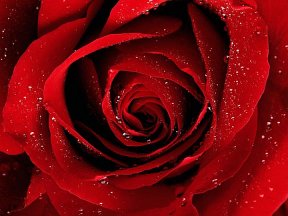 Happy Birthday, Hon


BACK TO MAIN PAGE
Bill and Sue-On Hillman
sueon@wcgwave.ca